Creative, Personal, Unique
Sonic Eye is a fully custom video editing service so we start by finding out more about you. What kind of footage do you have, and what's your vision for the finished video? We'll ask questions to get the full picture, once we know what you need you can be as hands-on or off as you like.
Is your video a home movie to entertain friends and family, or a business video to generate new clients? Are you making a series of training videos, or a travel vlog for YouTube? Whatever your goal, we keep this front of mind while we're editing your video, to get the results you need.
All our videos are custom-made, so we'll send you a fixed price estimate at the start, and unless there are major changes needed, we'll stick to it. During the edit we follow up with progress reports as we build your video, and sample videos to review, approve, or make changes.
Our aim is to make the process simple. If you like our work, get in touch!
We start by making a rough-cut of your video based on our conversations with you and your preferences. We put together your footage into a rough story, then we send you this online to get your comments. Are we on the right track? Do you want any changes? At this stage, we can make any changes you like to the cut, or change directions if you don't like the ideas.
Once we're sure we're on the right track, we fine-cut your video including any changes you've requested from the rough-cut review. At this stage in the edit we can still make changes to your video if needed, and we'll then send the final cut for your approval before we move onto the next stage.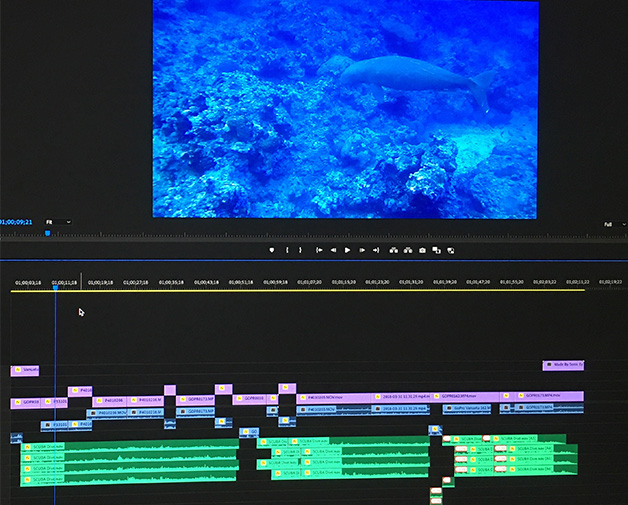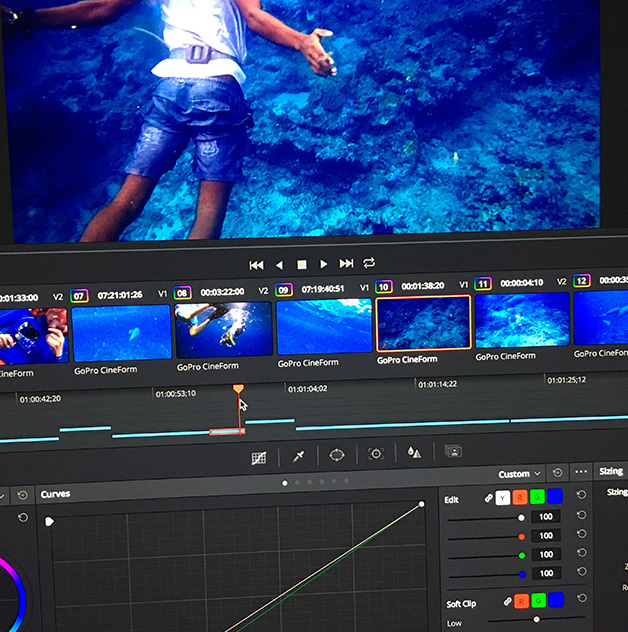 In this stage, we make the final cut as polished and professional as we can including any changes you've requested, then we move on to the sound mix and colour grade. This part of the process is what really makes the finished video shine! We'll work to improve the sound quality of your footage and in some cases (like underwater videos) we may replace the original sound by using sound samples, or creating our own foley sounds to fit the video.
If colour grading is included, we export to DaVinci Resolve for colour grading which is where we improve the colour and correct the lighting on the original video. At this stage no further changes to the cut can be made, but minor changes to the grade or sound mix may still be possible.
Once your project is completed and approved, we deliver your video in multiple sizes suited to most online platforms such as your website, Facebook, Linkedin, YouTube or Vimeo. Additional formats should be discussed at the start so that we can deliver exactly what you need.
Some social platforms have very specific video requirements, for example  Instagram and Twitter, but we can re-cut and format your finished video for these platforms by cutting from the already mixed and graded version.